Pinecastle Records Recording Artist Ross Nickerson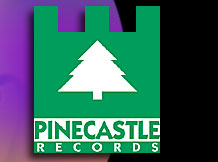 Bullet Proof Productions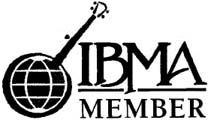 Join the mailing list and get updates on upcoming performances near you.
RossNickerson.com

Ross Nickerson Bio
Ross Nickerson Download Online Press Kit
Email us for booking and information
Toll Free
1-866-322-6567
baltimore maryland and buffalo new york bluegrass band with banjo player Ross Nickerson. The band performs bluegrass music, both traditional and contemporary. We are available for parties, special events, concerts and conventions in eastern Untied States.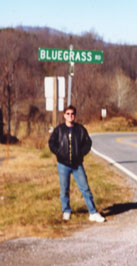 I think this is where I zigged when I should have zagged.
Banjo Player Ross Nickerson
and The Fast Brothers
Traditional and Contemporary Bluegrass
Great Music!
Available for bookings
Ross Nickerson and the Fast Brothers perform hard driving bluegrass music delivered in the band's unique and personable style. No two shows are ever alike and the variety is surprising. The boys puts on a show that is hard to forget which always keeps the audience entertained. The band is also very versatile and always knows how to fit in.
Ross Nickerson Download Online Press Kit
Click here for the upcoming schedule

BLAZING THE WEST CD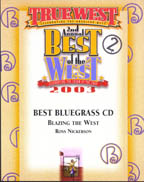 True West Magazine named Blazing the West the top Bluegrass CD of 2003 in their annual Best of the West issue.
Country Music Television voted Blazing the West as one of the top ten albums of 2003
The International Bluegrass Music Association named Blazing the West one of the top 15 instrumental CD's of 2003.
.....I've been listening all week to the "Blazing the West" CD and am absolutely thrilled with it. Beyond banjo, beyond bluegrass, western music, or cowboy music as I prefer to call it, is my favorite music. Having the chance to listen to both cowboy music AND banjo is just delightful. I hope it will do very well for you and that you'll be encouraged to do a volume II. 8-) Thanks again and best wishes, Brenda Jackson
Songs included are:
El Cumbanchero, San Antonio Rose, Garcia, Panhandle Rag, Ghost Riders in the Sky, Texas Blues, Red River Valley, Lonesome Cowboy, Jesse James, Don't Fence Me In, Standing Eagle, and Streets of Laredo
Both the Blazing the West CD and Tablature book are 30-day satisfaction guaranteed
or your money back with no shipping charges!
Click the price links below to buy.

BLAZING THE WEST TABLATURE BOOK. (Sprial Bound)
BOOK AND CD
Click here for more information on CD's